The Boston Celtics have clearly dismantled expectations for this season after winning their fifteenth straight game, and owning the NBA's best record.
Many believed Kyrie Irving was completely idiotic to leave a title contending team and one of the greatest players of all time in Lebron James. Kyrie seemed to be taking the path of one of his mentors, Kobe Bryant, advised. Everyone thought Kobe was crazy when he drove Shaq out of LA as well, but that's not all they have in common.
They both bet on themselves to lead a franchise when everyone believed they had reached their potential as a second banana to another player. Kobe Bryant became a legend, and Kyrie can do the same.
The difference? The situation Kyrie finds himself in means he can do it this year.
There was no Lebron James when Kobe was playing, a player who had been 7 straight Finals. With Cleveland off to a underwhelming start to the season, there seems to be the possibility Kyrie could upset his former team.
And if Kyrie became the man to stop Lebron James, to essentially begin his decline, to go to the NBA Finals, history will forever wonder who led the Cavs to their championship runs when Kyrie was with the team.
Considering Gordon Hayward's gruesome injury to begin the year and all the critics who said Kyrie could not lead a franchise, this would without a question be the greatest upset in NBA history. I'm not saying it will happen, as there are still questions about the play of his bench and supporting cast, but greatness is their for the taking, and there's no denying he at the very least has a shot.
The King James's crown will topple at some point, and Kyrie looks ready. Kyrie accomplishing this seems near impossible, but it's not like we haven't seen that from Kyrie before. I mean, after all, we are talking about the guy who hit the shot to beat the greatest regular season team of all time.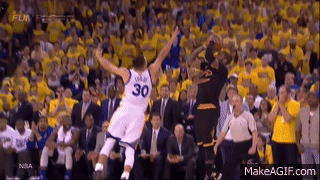 https://www.si.com/nba/2017/09/07/kyrie-irving-celtics-cavs-nba-2k18-alternate-cover
https://makeagif.com/gif/watch-kyrie-irving-make-the-series-winning-shot-of-the-2016-nba-finals-0LX5IV